Kat or Mr. Kat is a sentient evil (maybe not evil) alien agent of a planet called Catnip home to an entire race of kat like aliens. He is initially introduced as the primary antagonist, though as the series progresses, his motives become more complex and ambiguous than simply causing trouble for Coop.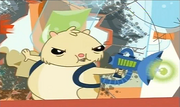 Mr Cheecks is a evil alien hamster that first appeared in season 2 in Cheecks of Evil, his plan is to turn the world into a massive hamster ball, he also has evil technology like kat, but more advanced.
Dennis Pet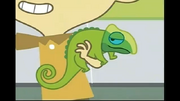 in season 2, during the ending of Over the Radar it is shown that dennis pet is a alien.
Ad blocker interference detected!
Wikia is a free-to-use site that makes money from advertising. We have a modified experience for viewers using ad blockers

Wikia is not accessible if you've made further modifications. Remove the custom ad blocker rule(s) and the page will load as expected.