Cacciatore


Cacciatore the Chicken
Full name

Cacciatore

Last appearance

Cacciatore is the mascot of Lorne and Harley, is a chicken, which first appeared in "You'll Be Show Sorry" where Kat knocked him out of the competition. It also appears in the "The Kat Whisperer" as one of the many pets that are lining up to see Coop, where Lorne and Harley mention that the bird is afraid of chickens. In the chapter "You'll Be Show Sorry", Lorne revealed he had a brother but it was needed for an omelette.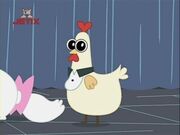 Ad blocker interference detected!
Wikia is a free-to-use site that makes money from advertising. We have a modified experience for viewers using ad blockers

Wikia is not accessible if you've made further modifications. Remove the custom ad blocker rule(s) and the page will load as expected.