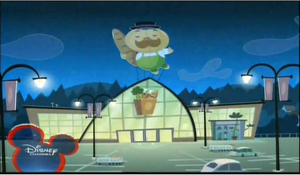 The Dollar store is the Burtonburgers' supermarket of choice and Kat's as well. It holds all types of items such as cereal, produce, ice cream, vegetables, and Kat's favorite Fishy Frisky Bits.
The Dollar store is seen in Kid vs Kat a few times, like in "Fishy Frisky Business" and in "Suddenly Last Slammer" when the cops are parked there. Coop was almost banned from the The Dollar store mostly due to Kat's mischief, but Coop was able to fix that when he foiled Kat's plans on robbing The Dollar store's supply of Fishy Frisky Bits. In return for saving The Dollar store's supply of Fishy Frisky Bits, one of the employees gives Coop the limited edition Kitty Captain Someone Blasti-Bit", and later that same day, Coop breaks his "Bounce and Catch" record with a little help from Kat. It may be have a garden shop.
Ad blocker interference detected!
Wikia is a free-to-use site that makes money from advertising. We have a modified experience for viewers using ad blockers

Wikia is not accessible if you've made further modifications. Remove the custom ad blocker rule(s) and the page will load as expected.