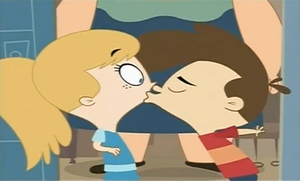 Coop-Fiona Relationship
is the most famous relationship in
Kid vs Kat
. This has started when Fiona has included in
Season 2
, in
Something About Fiona
.
Fiona's First Appearance
In "Something About Fiona", after Kat throw's Coop's Soccer Ball in to Old Lady Munson's yard, the ball returns to Coop's yard. Burt has estranged once, and has scared when he sees an eye in the fence, and then Fiona appears above the fence.
During Something About Fiona
Then, Coop falls in love with Fiona, but Old Lady Munson never accepts his relationship with Fiona. During this episode, Coop always protects Fiona from Kat's evil tricks, and soon Coop kissed Fiona, with the purpose of protecting her. But when Coop's in danger, Fiona helps him in the fight against Kat. In the final of Something About Fiona, Old Lady Munson sent her to his house, escorted by the police, with the purpose of "protecting" her from Coop.
Never Cry Sheep
In Never Cry Sheep, Fiona accidentely switched Coop's present with her cousin's present. After Coop got Fiona's cousin present which was actually a purple scarf, Coop wore the purple scarf at school which caused him to embarrass himself
Ad blocker interference detected!
Wikia is a free-to-use site that makes money from advertising. We have a modified experience for viewers using ad blockers

Wikia is not accessible if you've made further modifications. Remove the custom ad blocker rule(s) and the page will load as expected.