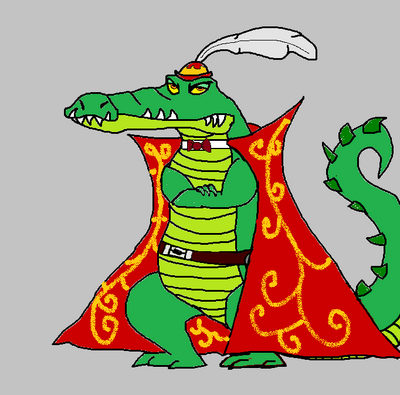 este perssonagen se asemelha a um crocodilo humanoide, o nome de sua raça é reptilansapiem do planeta reptilannebula. sua primeira aparição foi no filme KID VS KAT WAR OF THE WOLRDS (25\10\2010) . ele e o sr.bochechas aliaram as forças para dominar a terra mesmo que os repteis segam o imperio mais avançado de todo o universo mesmo asim ele ainda é o vilão principal do filme. foi o unico alien que deu um desafio para coop e kat mesmo trabalhando juntos. mais foi derrotado por coop,kat,dennis,fiona,millie,lorne,harley,phoebe,honey fluff 2.0,estelle, e a namorada do kat, quando eles foram para o campo de fut ball, porque mesmo sendo alienigena sua fraquesa era o mesmo dos repteis terrestres, não importa o tamanho os repteis se cação muito facil e emtão ele dsistiu e depois jogou uma granada de fuzão no cel e emtão toda a destruição cauzada pela guerra sumil quinen magica mais ele jurou voutar.
PODERES.
seus poders incluem super força,super velocidade,super invulnerabilidade,super resistencia,super inteligencia,super olfato, super visã,super audição e tambem concegue ser ainda mais assustador e nefasto que a velha enhora Munson.
CURIOSIDADES.
-ele re aparece de novo na serie KID VS KAT II como o vilão pricipal.
-ele deve ter sido imspirado na quele perssonagen do filme da disney ROBIN HOOD por que eles são parecidos mais este é de um estilo mais animado e o outro era um pouco mais realista.
Ad blocker interference detected!
Wikia is a free-to-use site that makes money from advertising. We have a modified experience for viewers using ad blockers

Wikia is not accessible if you've made further modifications. Remove the custom ad blocker rule(s) and the page will load as expected.