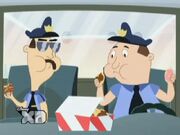 The police are two men that work together as police officers for Bootsville. They are shown in some episodes, and they look like to have met Coop a lot of times, but normally they end up not doing nothing because they are a little stupid.
The clean-shaven fat officer is called rookie by the moustached officer when informing that sprinkled donuts are for senior officers only.
Voices
English: Charlie Adler and Tom Kenny
Ad blocker interference detected!
Wikia is a free-to-use site that makes money from advertising. We have a modified experience for viewers using ad blockers

Wikia is not accessible if you've made further modifications. Remove the custom ad blocker rule(s) and the page will load as expected.