Some games associated with the franchise include:
Assorted games
Feline Frenzy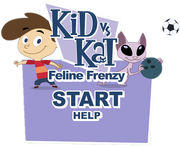 Summary
Kat has stolen all your favorite things and your best friend, Dennis. Get your things back, and rescue Dennis.
Get to the top of the tree house, and rescue Dennis, avoiding the obstacles Mr Kat puts in the way objects.
Controls
Use your arrow keys to move and jump.
'Space', fires water balloons when you have the water gun.
Items
You can pick up other items along the way:
an ice cream will give you extra life
a clock give us an extra time
a star will protect you
Links
Active:
Katapult Katastrophe
formerly at http://ifgo.net/kid-vs-kat-games-online-katapult-katastrophe/
YTV games
Captain Blasteroid: Defender of Space!
Link
Night of the Zombie Cats
Link
Apps
Kid vs Kat: Memory Match
Kid vs Kat: Kat Attack