Image Shop
Talk

0
1,071pages on
this wiki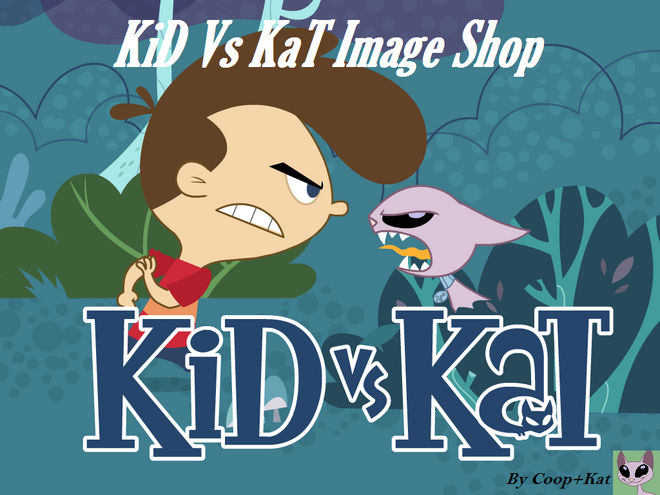 Welcome to the "Image Shop". Here you can find amazings images from the episodes (14,213 Images). This area is used for trivia, wiki images, or if you just would like to see shots of some of the videos in HD, so feel free to look around.

Want to see all Episodes of Kid Vs Kat (Season 1 & 2 episodes and shorts in english and french, and Season 1 & 2 Shorts in english)? Come subscribe to my channel (mick290491). This is the #1 Kid Vs Kat Channel on Youtube with more than 9 800 000 views!
If you have any problems with any of the pages of "Image Shop", you want to give suggestions or simply say thank you, just contact me on my message wall on my profile.
---Last 10 Images uploaded in the Image Shop---
("9 To 5 To Oblivion" Under Construction)
Season 1
Season 1 Shorts
| | | |
| --- | --- | --- |
| Shorts A - Z | ---Shorts--- | Videos (Youtube) |
| 1 | | Link (HQ) |
| 2 | | Link (HQ) |
| 3 | | Link (HQ) |
| 4 | | Link (HQ) |
| 5 | | Link (HQ) |
| 6 | | Link (HQ) |
| 7 | | Link (HQ) |
| 8 | | Link (HQ) |
| 9 | | Link (HQ) |
| 10 | | Link (HQ) |
| 11 | | Link (HQ) |
| 12 | | Link (HQ) |
Season 2
| | | | |
| --- | --- | --- | --- |
| Episodes | Part 1 | Part 2 | Videos (Youtube) |
| Opening |   |   | Link (HQ) |
| 27 | | | |
| 28 | | | |
| 29 | | | |
| 30 | | | |
| 31 | | | |
| 32 | | | |
| 33 | | | |
| 34 | | | |
| 35 | | | |
| 36 | When Bad Dogs Go Big | The Botty Guard | |
| 37 | Rebel With A Claw | Swap Wrecked | |
| 38 | Hit The Road | Never Cry Sheep | |
| 39 | Kickin' Butler | You Kat See Me | |
| 40 | Board Kat | The Treasure Of Sierra Munson | |
| 41 | Keep On Rockin' | It's In The Bag | |
| 42 | King Of The Pipsqueaks | Down The Creek | |
| 43 | Turn The Other Cheeks | Birthday Bashed | |
| 44 | Mind Games | Strange Kat On A Train | |
| 45 | Fangs For The Memories | Drive-In Me Crazy | |
| 46 | Hair Brains | Hot Dog Day | |
| 47 | Amazing Feet Of Strength | Me Coop, You Kat | |
| 48 | You Scream, I Scream | Good Luck Harm | |
| 49 | Bootsville's Most Wanted | Kat Of Diamonds | |
| 50 | Coop D'Etat | The Incredible Shrinking Coop | |
| 51 | Who's Haunting Who? | It's All In Your Head | |
| 52 | The Kat Went Back Part 1 | The Kat Went Back Part 2 | |
Season 2 Shorts
| | | |
| --- | --- | --- |
| Shorts A - Z | ---Shorts--- | Videos (Youtube) |
| 14 | | Link (HQ) |
| 15 | | Link (HQ) |
| 16 | | Link (HQ) |
| 17 | | Link (HQ) |
| 18 | | Link (HQ) |
| 19 | | Link (HQ) |
| 20 | | Link (HQ) |
| 21 | | Link (HQ) |
| 22 | | Link (HQ) |
| 23 | Lions And Tigers And Kat... Oh My! | Link (HQ) |
| 24 | | Link (HQ) |
| 25 | | Link (HQ) |
| 26 | | Link (HQ) |