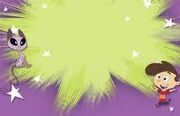 Coop's adventures continue as he finds new ways to prove that his sister's tiny hairless cat is an evil alien bent on destroying him. While Kat is creating and implementing new diabolical plans, Coop can be found protecting his new found crush, campaigning to humiliate Kat, and attempting to prevent Kat's evil plans, like the one to turn Bootsvillie's entire water supply into milk.
Ad blocker interference detected!
Wikia is a free-to-use site that makes money from advertising. We have a modified experience for viewers using ad blockers

Wikia is not accessible if you've made further modifications. Remove the custom ad blocker rule(s) and the page will load as expected.