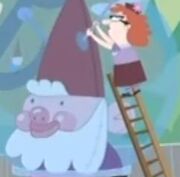 Iris is a member of the Garden Gnome Appreciation Club who appears in U.F. Float when Old Lady Munson refers to her by name when she tells her to straighten antennae on their float. She wears glasses and has curly red hair.
See also
Ad blocker interference detected!
Wikia is a free-to-use site that makes money from advertising. We have a modified experience for viewers using ad blockers

Wikia is not accessible if you've made further modifications. Remove the custom ad blocker rule(s) and the page will load as expected.