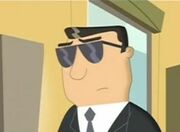 Neapolitan is of the secret agents from Area 102. He works with Butterscotch and one other. In It's All In Your Head he is knocked out by a tranquilizer dart that Kat puts in his neck via a blow gun. He is mistakenly thought to be asleep as a result of eating pancakes by Millie. Kat then controls his body and speaks English through him.
His first appearance was in episode "Over The Radar".
Appearance
He has black hair and eyebrows.
Like the others, he wears black suits and black eyeglasses.
Gallery
Ad blocker interference detected!
Wikia is a free-to-use site that makes money from advertising. We have a modified experience for viewers using ad blockers

Wikia is not accessible if you've made further modifications. Remove the custom ad blocker rule(s) and the page will load as expected.