Old Lady Munson
Talk

0
1,071pages on
this wiki
Old Lady Munson


Old Lady Munson
Full name

Mrs. Munson / Old Lady Munson

Quotes

(Angry) "BURTONBURGER!!!!

Played by
Episodes
Sierra Munson (or Old Lady Munson) is a nagging old woman who is the next-door neighbor of the Burtonburgers. She is grumpy and mean to all the boys and men, though she seems to have a soft spot for Millie. It is unknown exactly how old she is, she was elderly when Burt was a child, and even when several senior residents of the street were still children. She has collected a massive stache of toys she's confiscated after they fell into her yard over the years. Until Coop caused the storage house to explode, raining down decades worth of toys all over the neighbourhood. When someone (usually Mr. Kat) causes trouble for her, she usually blames Coop, and yells "BURTONBURGER!".
Japanesse Voice by: Kazue Ikura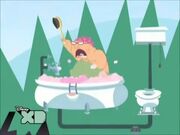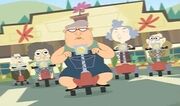 She is a member of the Bootsvillie Gardening club which every member is a mean old lady/man, she is also president of the Gnome appreciation club.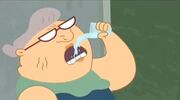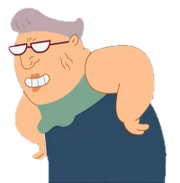 She is also called "Mrs. Munson".
She is a big fan of Captain Blasteroid, Coop and Dennis' favorite TV show.
She has a shed where she keeps all the toys that touch her lawn; on top of that, her lawn is equipped with motion-sensitive lasers, a hidden keyhole in one of her gnomes, and a voice-activated lock.
She has a name for EVERY gnome in her garden. We don't now why she names them.
Old Lady Munson is the ONLY person to use Kat's Collar besides Kat.
She has a dog named Growler.
She has wrinkles even when she was younger.
She holds a trophy for best and most creative monster, won with help from Kat and Coop's shinanigans.
The actor who plays Captain Blasteroid and Fiona are related to her

Added by

Lord Dhaos

.
She doesn't like Kat.
She has an elf on the roof of her house.
She teaches tango.
She has a similar attitude to Miss Chicarelli, from Disney's "Kick Buttowski" series.
Mrs. Munson has about 170 gnomes.
She doesn't seem to like it when you call her "Old Lady Munson". As when character call her by that nickname, they quickly studder and correct themselves.
It is unknown if her name is Sierra Munson. It is seen in "The Treasure of Sierra Munson".
References
Edit