"Something Fishy In Owl Lake"
is the 16th episode of
Kid vs. Kat
and the 16th episode of
Season 1
. It aired on June 6, 2009 with
Dire Education
.
Plot Summary
The Burtonburgers face friends, neighbors, and each other in a local Fishing Derby. When Coop mistakes Kat's transceiver for a fishing lure, Kat is forced to do some deepwater fishing of his own.
Crouching Cooper Hidden Kat (Image Shop)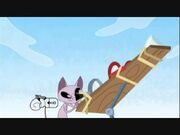 Ad blocker interference detected!
Wikia is a free-to-use site that makes money from advertising. We have a modified experience for viewers using ad blockers

Wikia is not accessible if you've made further modifications. Remove the custom ad blocker rule(s) and the page will load as expected.