"Stall That Jazz" (stylized sTall tHaT jazz) is the 23rd episode of Kid vs. Kat and the 23rd episode of Season 1. It aired on July 31, 2009 with Under Destruction.
Plot Summary
When Kat's listening transmitter becomes lodged in his ear, his hearing becomes super sensitive. Now Coop's going to use every noise in the house to torture his enemy but the ultimate weapon is Millie's voice.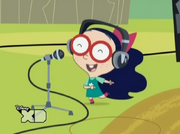 Ad blocker interference detected!
Wikia is a free-to-use site that makes money from advertising. We have a modified experience for viewers using ad blockers

Wikia is not accessible if you've made further modifications. Remove the custom ad blocker rule(s) and the page will load as expected.