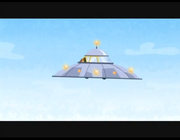 Seen in U.F. Float kat makes some changes to get it to fly to make a break for home, but when coop doesn't leave the car they have a comical journey all over the world. it then re-appears in the episode Over the Radar as Kat and Dennis go to save the Burtonburgers.
Ad blocker interference detected!
Wikia is a free-to-use site that makes money from advertising. We have a modified experience for viewers using ad blockers

Wikia is not accessible if you've made further modifications. Remove the custom ad blocker rule(s) and the page will load as expected.