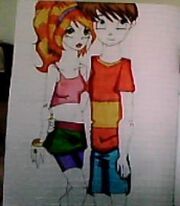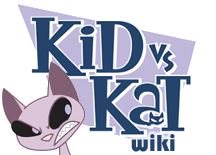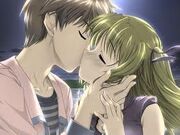 It's me at the"Summer Garden"(a terrace bar).

About me

Added by

Coop+Kat

Edit
Paula 12:00, March 28, 2011 (UTC) Hello, my name is Paula, I'm from Romania. I like to draw and I want to find a job on this category. So, yes, I like to watch cartoons no matter how old I'm. I'm a person who have a big imagination, fully of energy and a hardworking. Well to prove that I love to draw and watch cartoons, I wanna say that I have 277 of notebooks with different cartoons. But not just an ordinary notebooks, school notebooks. Exemple:one notebook, 1 or 3 different cartoons in that notebook. Why I like to watch cartoons soo much? I have many reasons here:1.I want to know how are they made;
2.Want to examinate the shapes;
3.The colours use there, the lights and the shadows also want to examinate;
4.The moves made by the characters;
5.And the mistakes want to see out there, but this is not soo important.
I want to learn from the best;).
"Wanna be the best? Work hard, accept all the advices from the best drawers ever".
About me, well I like to go in the nature, to visit new places, to visit monastery's, museums. I'm a friendly person, who like to make new friends from all over the World, to talk to them, about this cartoon, and more then that. As I say, I WANT TO FIND A JOB ON THIS CATEGORY, TO BE A DRAWER. Have a nice day;). Thanks.Paula 12:00, March 28, 2011 (UTC)
My favorite pages
Edit
www.superrtl.de(note:this page is in german language).
11. www.monitorulbt.ro
12. www.linkedin.com
13. www.primatv.ro
14. http://darkjazmin11.deviantart.com/
15. http://deviantart.wikia.com/wiki/Main_Page
My favorite places
Edit
Gura Humorului(is a city on north of Romania, and is in montains);
Radauti(is a city, on north of Romania, more far from G.H.);
Siret(its a small town, but beautyful, is Ukranian border);
Botosani(county were I live);
Iasi(Iasi was the capital of Moldova for 300 years<<but that long ago>>).
My favorite cartoons
Edit
Sailor Moon;
Dragon BallZ;
Pushel;
Around the World in 80 days with Willy Fog;
The Powerpuff Girls;
Johnny Bravo;
Dexter's Laboratory;
YuYu Hacusho;
Blood+;
Naruto;
Kiddy Grade;
Digimon Data Squad;
And moust of all is Kid vs Kat.
My favorite music.Romanian bands and singers(my fav.bands&singers from RO)
Edit
1. La Familia: ="Tot in familie."
2. Puya: = "Undeva-n Balcani;"
=" Change;"
=" Sus pe bar;"
="V.I.P.;"
="American dream."
3.Puya,Keo and Laura: ="Viata noua."
4.ROA:="Ne place."
5.Morandi: ="Angels."
6.Guess Who: ="Locul potrivit;"
="Manifest;"
="Oriunde te duci;"
="Oriunde te duci / Stiu deja."
7. Morandi: ="Angels".
8.David Deejay feat Dony: ="Sexy thing;"
="Nasty dream."
9.Dj Sava: ="Sunshine;"

="Reason."
10.Akcent ="My name;"
="Stay with me."
| | |
| --- | --- |
| ' | This user's is a fan of Coop. |
| | |
| --- | --- |
| | This user resides in other parts of the world. |
This user uses

G

o

o

g

l

e

Chrome.